Wedding DJ at Highland CC
We were so excited to be back to be the Wedding DJ at the Highland CC this past Sunday. Expressway Music Owner/DJ was the dj for Chami and Adam's wedding who, because of Covid 19, had to change their date on 3 separate occasions!! Fortunately it was a beautiful sunny day where everyone seemed extra eager to have a good time!!! Here is DJ Dave at the beginning of the reception with his DJ Set up…(you can see the Bose speakers to the left of Dave and one by each corner of the fireplace…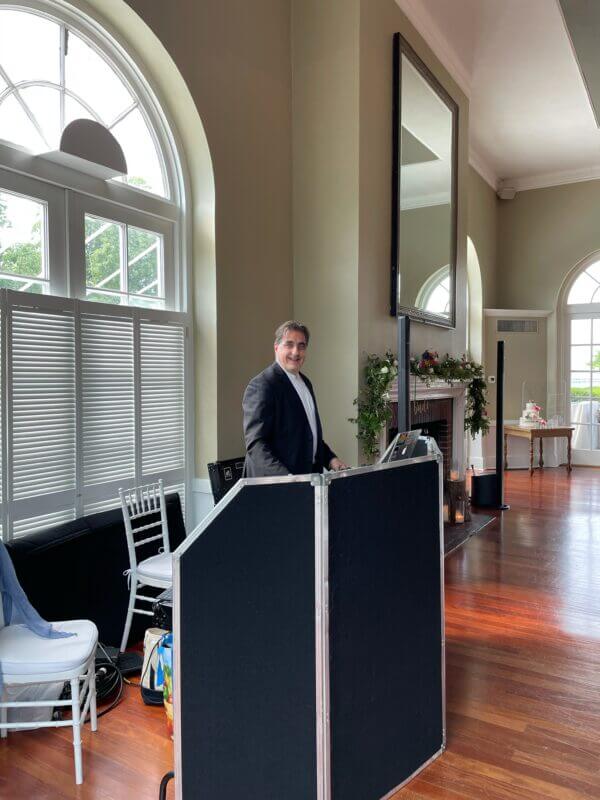 Wedding Ceremony
The wedding ceremony was held outside which had the potential for a few issues
Bright sunlight can make it VERY difficult to see screen
the distance between where the bride and groom get married and where the dj sets up is not close which could be an issue with wireless mic interference.
DJ Dave comes extra prepared for every gig so potential issues do not happen. First, DJ Dave had the equipment with him that allowed him to set up in the shade where Sun brightness was not an issue. Secondly, we invest heavily in quality wireless microphones and the ceremony went off perfectly!!!
Here is a photo of DJ Dave and his ceremony dj set up. On the table, in front of DJ Dave, is an ipad with a premade Spotify playlist and the wireless mic transmitter. Also present is our "Art Deco" Bose speaker where this sound is so crisp and clear that many guests don't know where the sound is coming from!!!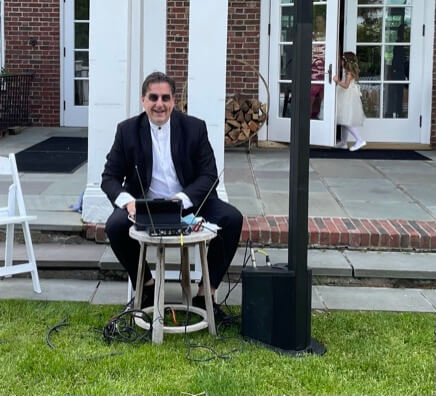 The following photos show the ceremony area (from dj dave's view) and the side view of dj dave's ceremony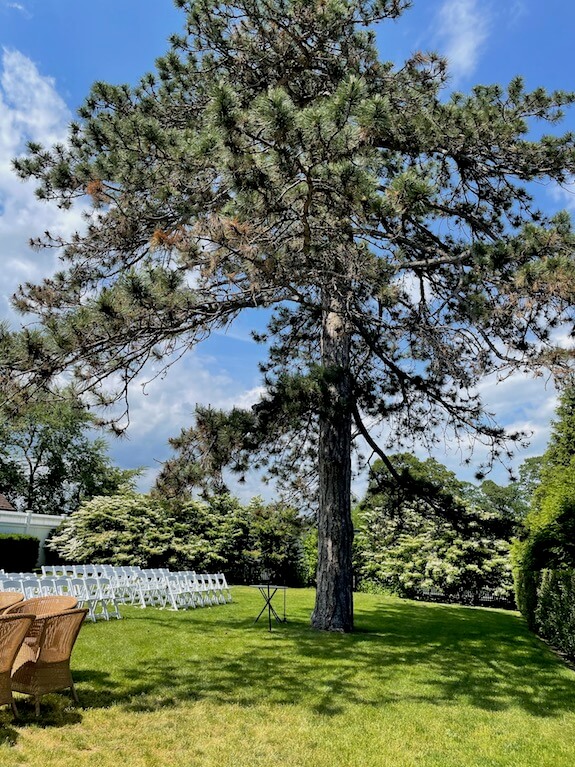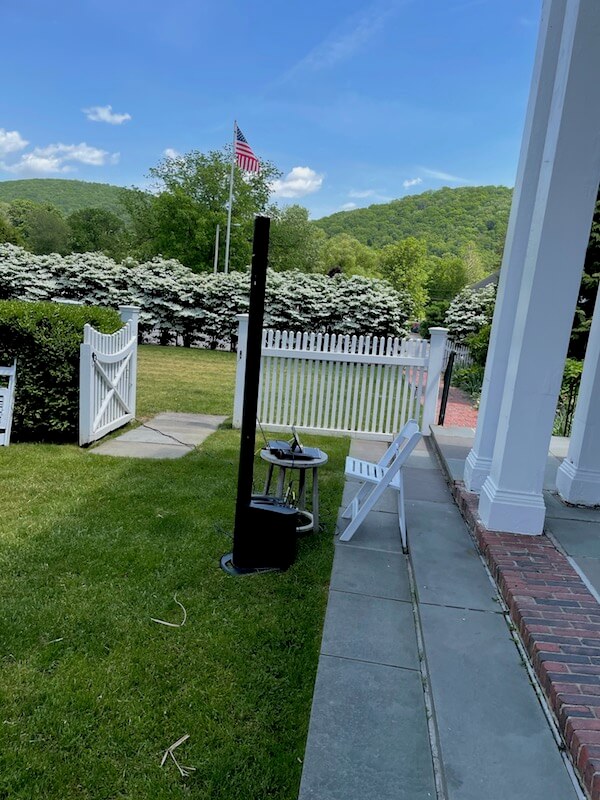 Wedding Reception
The reception began with DJ Dave introducing the Bride & Groom into the room to "Happy" by Pharell. The first dance was "Cheek to Cheek" by Louie Armstrong and Ella Fitzgerald:
There was a LOT of dancing for a Sunday afternoon wedding..DJ Dave played many dance classics that guests were dancing and singing along to!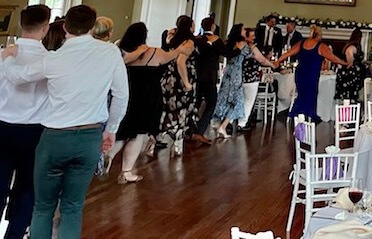 The Venue-Highland Country Club
This venue has everything a Bride could want for her wedding. A Wonderful, attentive staff led by MGR Adam. Adam and his staff are extremely attentive to both guests and vendors. The food is exquisite-full of flavor and delicious. The space itself has multiple options on where to hold the wedding ceremony(both inside and out)and the view overlooks a beautiful country club golf course. Our DJ's always look forward to dj'ing here because everything is run so well!!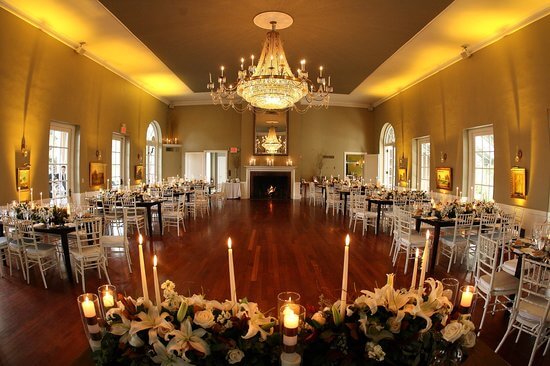 DJ Dave's wife Katherine emceed a hilarious version of "The Shoe Game". Many guests got involved by asking their own questions for the bride and groom. It was a hoot!
Thank you letter from Bride
From: Chanmi
Date: Wednesday, June 9, 2021 at 10:13 PM
To: David Swirsky <[email protected]>
Subject: Thank you
Thank you so much for your touching email; and i am so sorry for getting back to you with delay. I was catching some much needed rest ?? Thank you very much for all the details you paid attentions to, you going over multiple things definitely helped me calm down. As a control freak myself, it was very much needed! And being okay with 3 rescheduled date as well! Thank you. Also, please please please thank your wife for us. I loved her MC'ing the games. It could not be any better. I have a friend who attended the wedding that asked your info, which i passed along, for her wedding! Her name is Tamara! Hope that is okay.
Million thanks –
Wish you well.
Chanmi & Adam
We want to thank Chanmi and Adam for choosing us to DJ their big day!! We also want to thank Adam and his staff for being so hospitable and helpful throughout the entire wedding!!!!