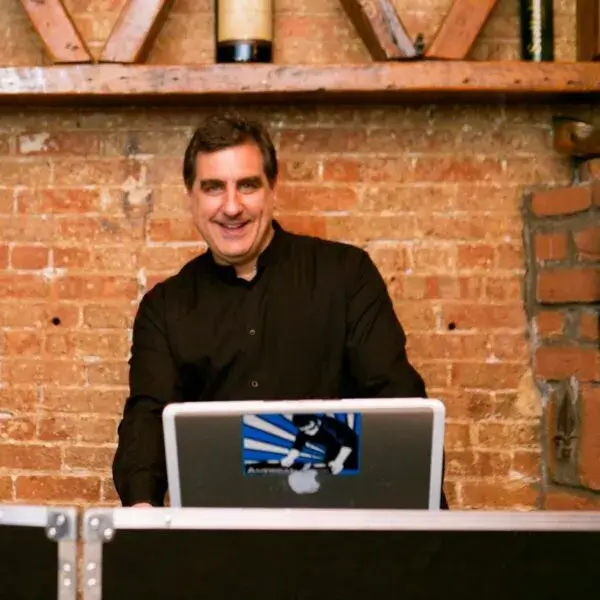 Meet the Owner, DJ Dave Swirsky
The summer of 2023 has been recorded as the hottest on record, with rising temperatures and extreme weather events. Despite these challenging conditions, weddings and celebrations are busier than ever. This could be attributed to a variety of factors, such as couples wanting to make their special day memorable or people finding joy in coming together to celebrate despite the heat. This trend of busy weddings and celebrations may continue into the foreseeable future as people adapt and find ways to enjoy and commemorate important moments regardless of the weather. Let's make the rest of 2023, and beyond, the beginning of the "Roaring 20's" 21st century style!!  We are up to the task!!! My event management company, Expressway Music, is here for you and our NYC dj roster is better than it has ever been. In addition to our great dj's we have added top NYC Musicians for your ceremony and or/cocktail hour. We are also offering brand new state of the art "blingy" interactive Mirror photo booths and 360 degree booths!! We of course always have been the go to company for Karaoke dj parties and Karaoke Rentals of all kinds. Please know we also offer Silent DJ Disco Parties for all ages. We also have various lighting packages that could be a perfect fit for your party or event! So if you are ready..so are we…let's celebrate life and all the good things life has to offer! Feel free to contact me anytime to discuss your event  212-953-9367 / 914-370-2333  or david@expresswaymusic.com Thank you!!!
DJ Dave and Marcos were outstanding! I needed a Karaoke DJ for my son's first birthday party and we all had a great time. Dave is very professional and accommodating. The party was 5 hours and a mix of 100 adults and 30 kids ages 4-7. The DJs did a great job of blending songs and activities with kids while keeping the adults dancing and singing too. He even set up a big screen to play our slideshow and display the karaoke lyrics for the crowd (which was a big hit.). Highly recommended. Would definitely hire again.
Sean Flanagan
June 1, 2022
Going into our wedding planning process, music and the dance party were top of mind for me. I had a vision of all of our friends and family mingling on the dance floor and we needed a partner that was going to make that dream come true. Working with Expressway Music and DJ David was a top-notch experience and he made sure that our party was everything we wanted and more. From our first call, David brought a personal touch to the proceedings and truly sought to understand what we were looking for at our wedding. Expressway Music isn't just limited to music, as he was also able to bring a photo booth, which was a hit with all of our guests throughout the entire night. David's planning portal and process helped us to maintain the level of control over the music we were looking for, while also relying on David's years of expertise throwing the best parties. We were able to indicate which songs were a must, which were a maybe, and which we definitely didn't want to hear. From there, during our final planning meeting we went through these selections so that he could craft the final product. And it worked out perfectly -- our dance floor was never empty and our guests left raving about how good the music was and how much fun the photo booth was. If you're looking for a professional to bring your event to the next level, we highly recommend Expressway Music.
mary-claire barnes
February 8, 2022
What a treat working with Expressway Music! We were working on a tight budget and reached out and initially couldn't afford the first DJ but then Dave worked with us and found someone who was willing to and let me tell you, DJ Sergio was a freaking hit! Everyone was raving about him after the reception! Sadly, being the bride, I was in an alternate dimension because of adrenaline, so I barely remember anything from that night but I do know that he was prepared, communicative and so fun! He checked out the space a week or so ahead of time too which felt reassuring to us. He even played a song (or two) after the last song (and the party had ended) because everyone was having such a good time and wanted it to continue! I really can't express how many guests told us how great and fun DJ Sergio was , after the day was done. He also had a ton of profesional equipment and we literally didn't have to worry about anything. Expressway also has a client portal to upload music which is nice! There was a 50 song limit which, of course, makes sense because that's a ton of music but I wanted to add a million lol. Regardless, he picked great music and it was a blast!!!
Ariel Amster
November 23, 2021
David did a great job as DJ for our party. From the beginning, he listened to what we wanted, made good suggestions and put together a nice play list for candle lighting ceremony and was did just the right amount of directing the party and hands off to let things develop. Would highly recommend him and his service.
Barbara Y
October 13, 2021
DJ Dave is a rockstar! I recently hired Dave to be the DJ at my birthday party, and I couldn't have been happier. When we were first looking in vendors, I reached out to a few dj's and spoke with them. They were all very nice, but I felt most confident about DJ Dave and his commitment to customer service. He was the first to respond despite his very busy schedule and also had a warm and friendly persona that made me want to work with him. He listened well to what I was seeking in terms of music etc, and he followed up to check that things were going according to plan. He also did not hesitate to offer his professional opinion on what he felt would work, and it turned out that he was right on all counts. He knows his music and can read a crowd that can only come with years of honed experience. The party was a blast thanks to his contributions. Would not hesitate to hire him again. You should hire him too!!
Guillaume Le Gall
December 1, 2019
We really enjoyed working with DJ Greg. Expressway Music was very easy to work with and very responsive. We discussed our preferences with Greg and he created exactly what we wanted. Some of our international guests asked if he was a celebrity DJ!! We highly recommend using Expressway Music for any events.
Everyone knows Music makes s Party. A bit unconventional ... however, being familiar with DJ David (owner) I checked his availability for a special private party before booking the restaurant and ordering invitations. I reserved my date with Expressway Music 9 months in advance. I was thrilled evening of the party! He arrived early and sublime music played as guests entered. He reads a crowd well and plays music that inspires everyone to dance. I gave him my "music wish list" a month prior. He played them PLUS gladly accepted requests. My 29 guests said they couldn't remember the last time they had that much fun and they LOVED the music. I believed them. All I wanted to do, on my Birthday, was Dance. Thank you SO much David - you are a diamond in any haystack and a blessing to anyone lucky enough to have you make their musical event Spectacular!
Lindsay Caprioni Rummell
October 15, 2019
I cannot rave enough about David and team. My husband and I just got married at the Harold Pratt House and David absolutely nailed it! He listened to exactly what we wanted and put together playlists that far surpassed my expectations! He had our guests dancing all night long and everyone has been singing his praises! Music was very important to us at the wedding... David delivered and made it the best part of the night. I need to throw another party just to hire him again! Also, he is an absolute gem to work with. Sweetest and most professional man. Thank you again, David! Xx
Barry Joseph
May 20, 2019
David and his team were amazing. The music was just the right volume for our crowd and people were up and dancing. He was very flexible and work with us to understand our needs. We provided a number of Spotify playlist which were incorporated at the right points throughout. When we needed something (to add some extra MCing during the hora, to change the music) the response was always immediate. David's motivator Sean was a powerhouse. And the team together worked with a rather complex script we provided to run a Spotify-playlist-driven name that tune connected to a Web-based app projected on a screen - and they pulled it off flawlessly.
A week after my daughter's Sweet Sixteen and her friends are still raving about the entertainment at her party! The teenagers were so engaged in the music and karaoke. They were still going to the end! David took the time to understand my daughter's musical tastes, the crowd and the feel we wanted. This individualistic approach makes him very special. I would hire him again in a heartbeat! Shout out to his amazing staff as well!
What you will get from us:
Expressway Music's professional event DJs and karaoke DJ's have been hired by corporations in all industries for their events both big and small. Our DJs have also worked at all types of venues; one night it could be for 1200 guests at Capitale in NYC and the next it could be for 50 guests at a Brooklyn Bar or for 100 guests at the Westchester Marriott! While we are predominantly known for our Professional Disc Jockey services, other popular services we offer include Karaoke, Photo Booths, Photography, Live Music Silent Disco Parties, Sports Games and more!!
We are very grateful for the wonderful letters of recommendations from the finest venues in the NY City Tri state area! (see below)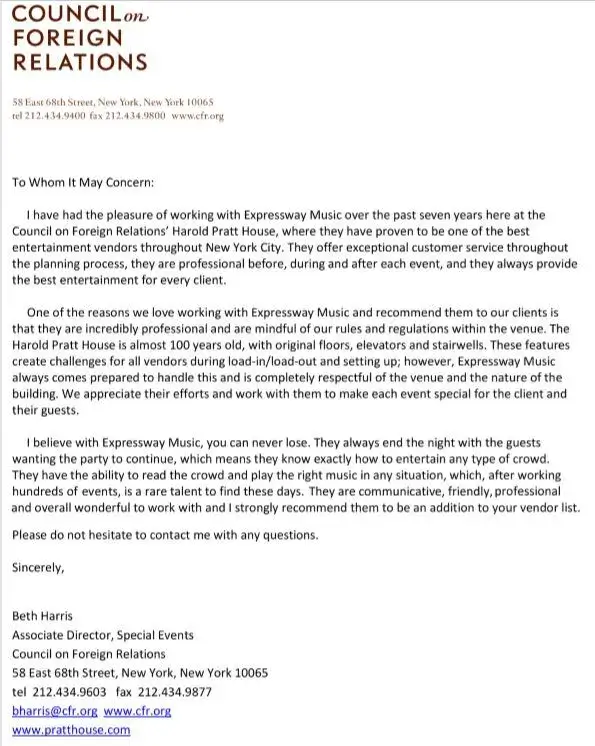 "They always end the night with the guests wanting the party to continue"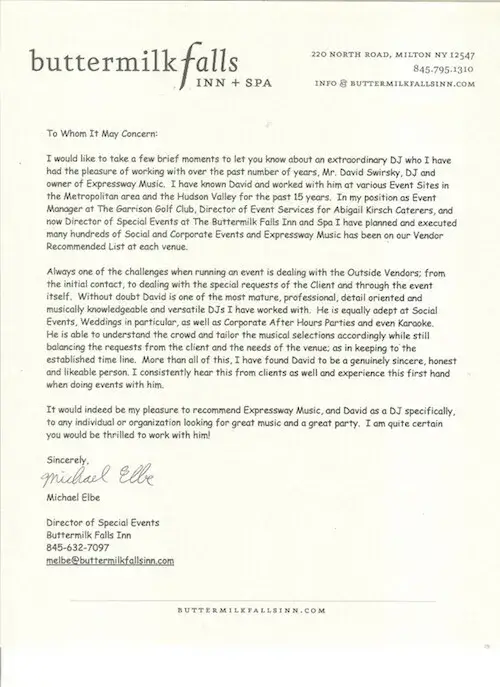 "It would indeed be my pleasure to recommend Expressway Music, and David as a DJ specifically."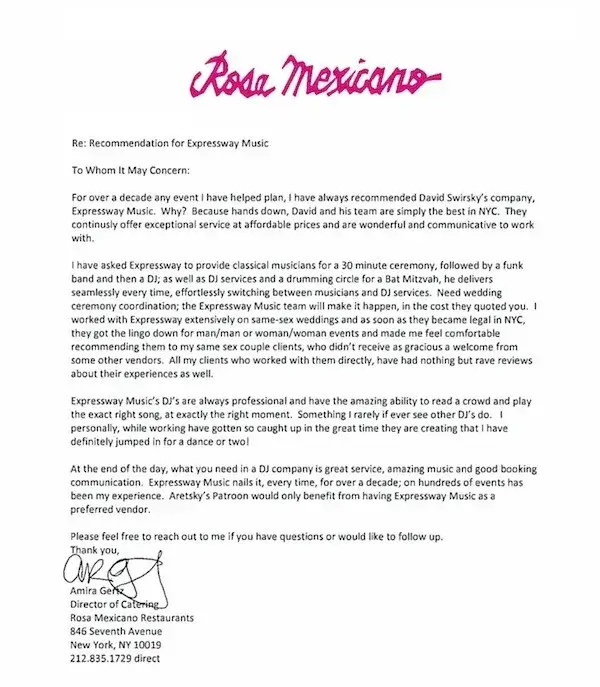 "For over a decade any event I have helped plan, I have always recommended David Swirsky's Company Expressway Music."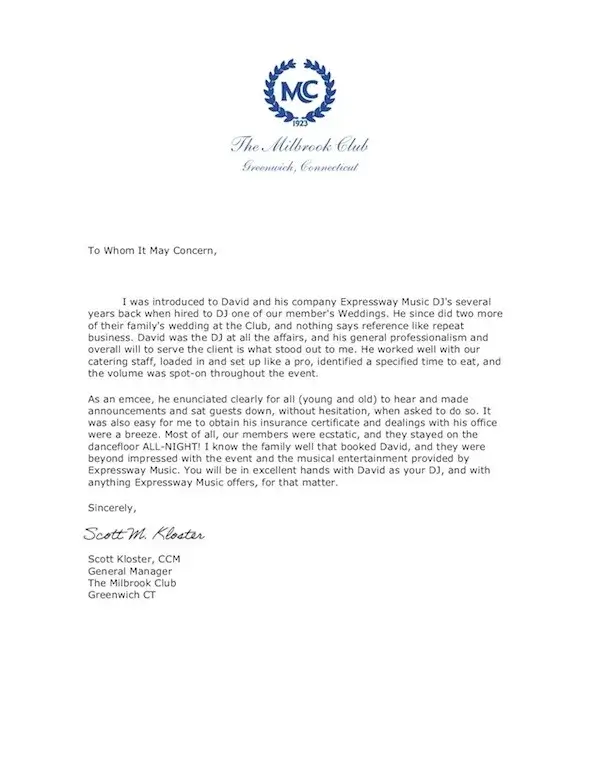 "Most of all, our members were ecstatic, and they stayed on the dancefloor ALL-NIGHT!
No matter how big or small, low-key or high energy, we can customize our services and tailor it to your needs. Don't know where to start? Contact Owner/DJ Dave Swirsky for an unrushed consultation.