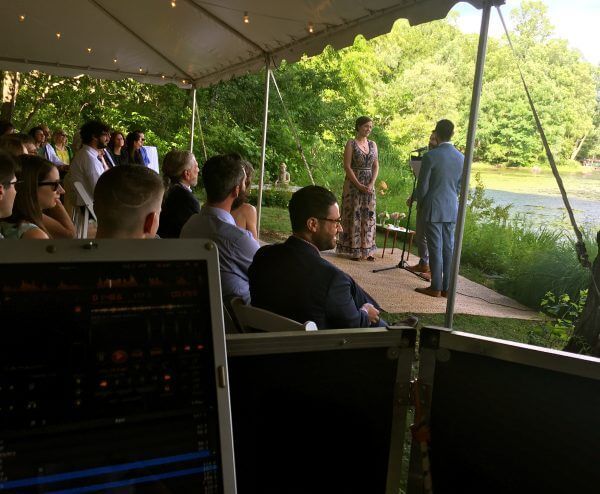 Lakefront Wedding in South Salem NY Westchester County
Em and Mike were married and had a Lakefront Wedding in South Salem NY Westchester County. The Ceremony took place under a tent close to the lake (see photo below) It was a special night of great music, friends, dancing and singing!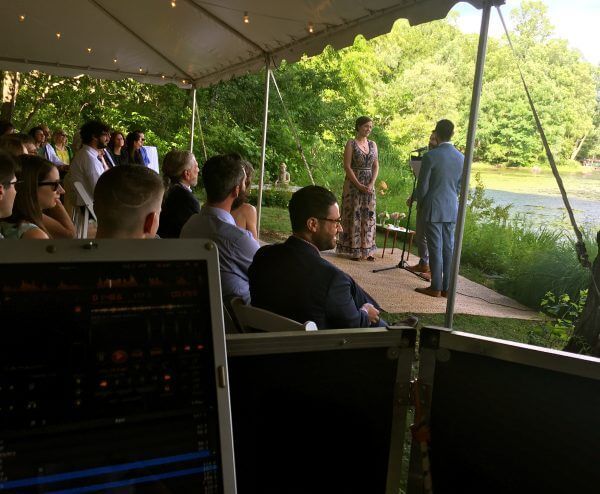 Dinner underneath Tent
There were actually two tents. The first tent held the wedding ceremony and after dinner dancing and the other tent housed guests for dinner and what a dinner it was! The Tent seated 175 guests who were treated to a multi course feast provided by the talented caterers.
Tent Two Dinner Tent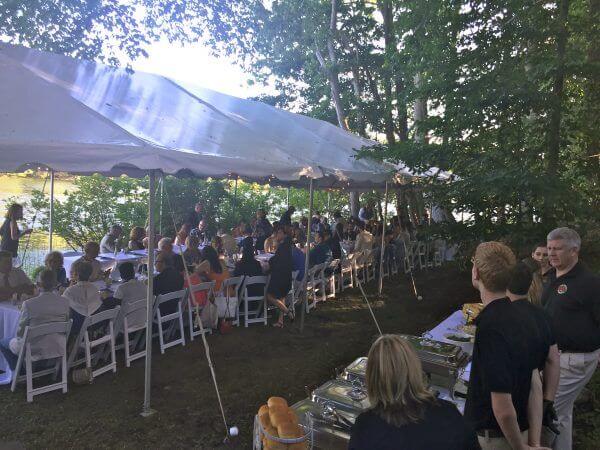 DJ Dave and his assistant Chris set up two compact bose speakers with wireless transmitters so that one bose was covering one tent and the other bose was covering the dinner tent. After dinner Chris moved the dinner bose speaker into the tent with dancing for a fuller sound for the dance floor.
Compact Wireless bose facing the dinner tent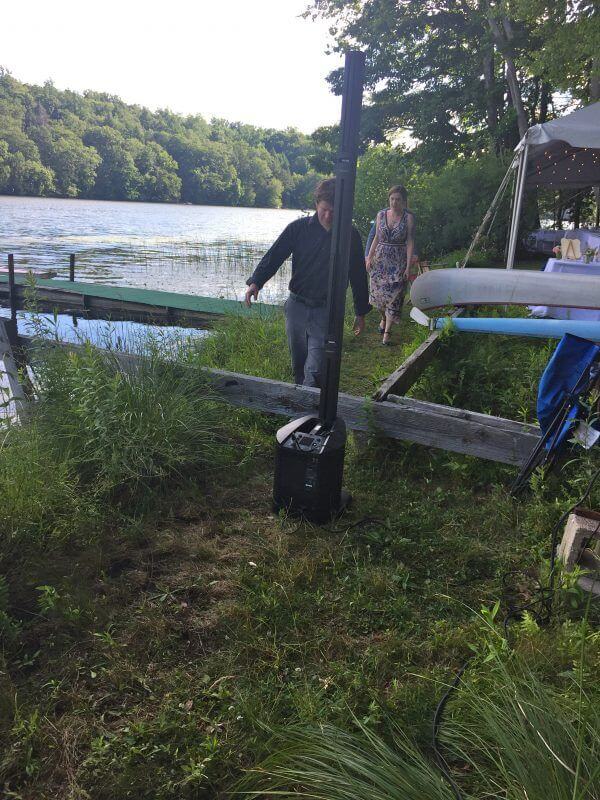 DJ Dave and Dancing/Karaoke
Here is DJ Dave Swirsky set up for the wedding under the Ceremony/Reception tent before guests arrived. The weather was perfect in South Salem with no humidity and VERY few bugs..thankfully! The TV on stand next to DJ Dave was for after dinner Karaoke singing in between dance sets!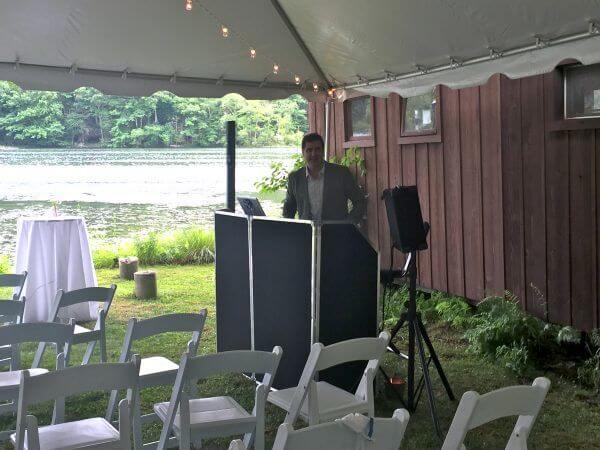 Dave is a very skilled/experienced DJ and was able to seamlessly DJ in-between karaoke sets. After dinner when the dancing and singing began, there was never a moment guests weren't on the dance floor or up performing.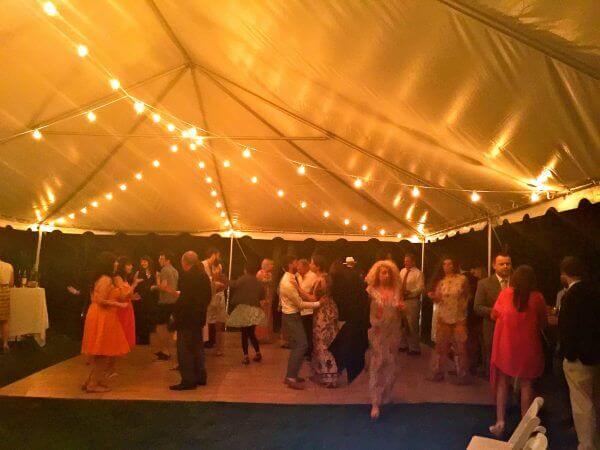 Here the bride and groom are singing the first song by Bruce Springsteen "Thunder Road". Guests signed up quickly after and DJ Dave went back and forth seamlessly between singing and dancing!
We are often hired to do dj/karaoke combinations at either during wedding receptions and/or Wedding after parties. Ask us to show you the many videos we have of various weddings of guests having the best time with our dj/karaoke combo.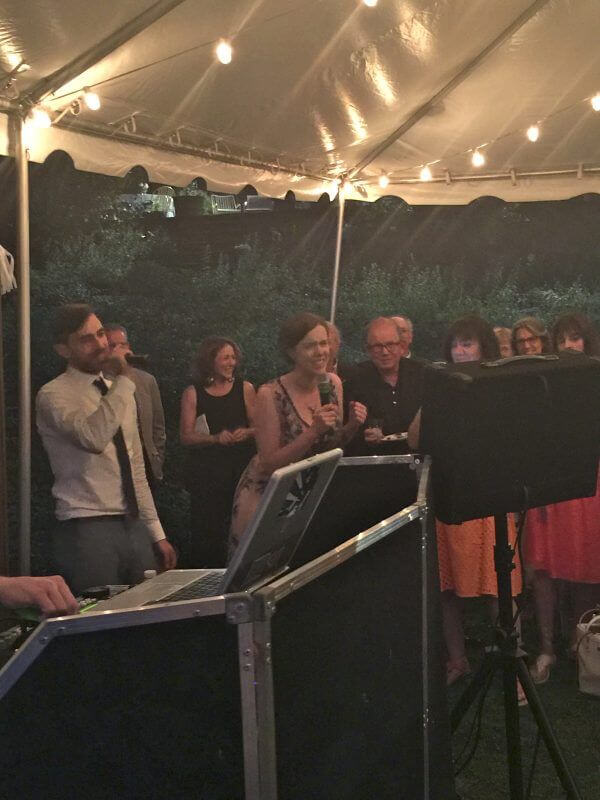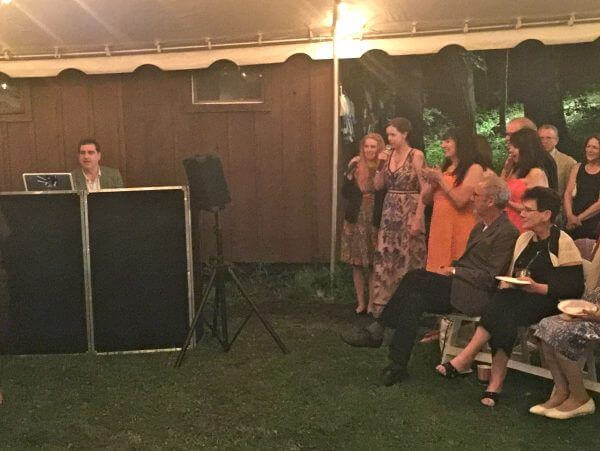 Lovely Letter from Bride
From: Em M
Sent: Tuesday, July 12, 2019 12:01 PM
To: david@expresswaymusic.com
Cc: Mike R
Subject: Thank you
Hi David,

We're still hearing from guests how much they loved the music! Some of our friends couldn't believe that we hadn't given you a list of specific artists or songs because everything you played was so spot on. Thank you so much for doing such an amazing job and for being so easy to work with! We'll definitely be passing your info along to everyone we know in the area!!
Best,
Em & Mike
Related Links:
Le Chateau Wedding South Salem