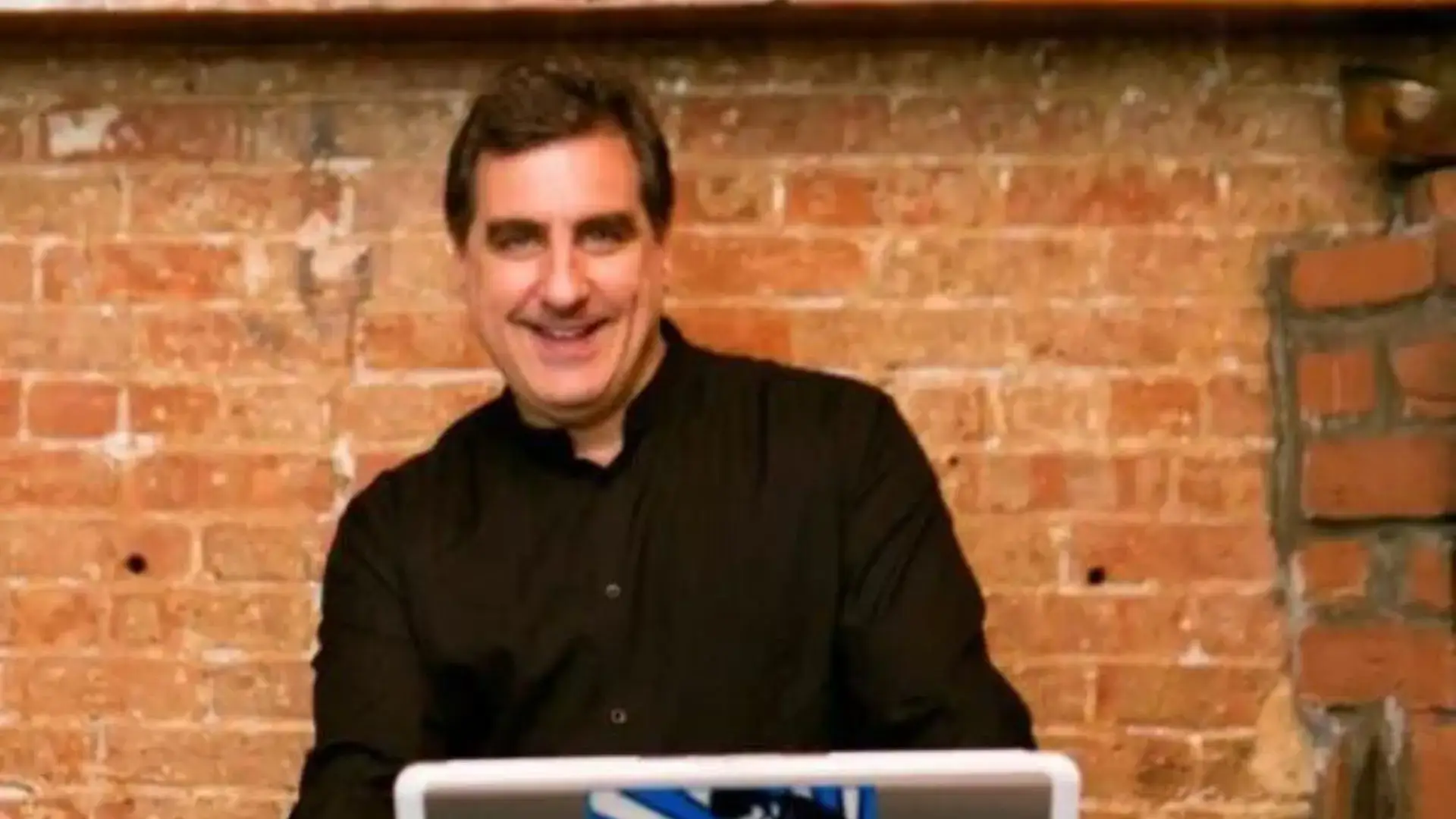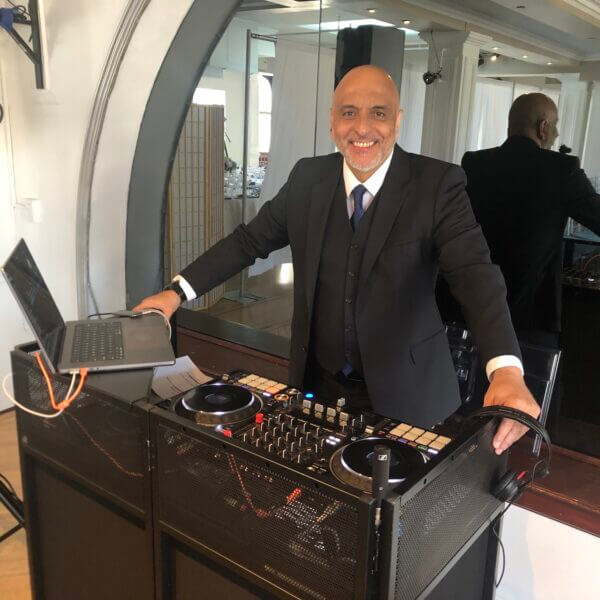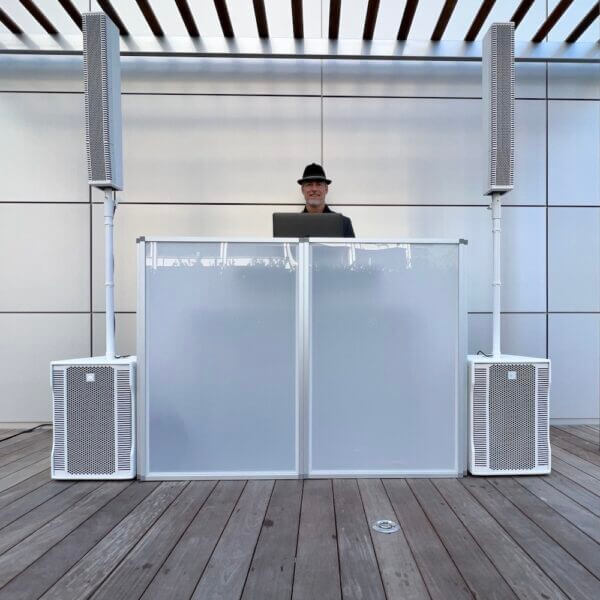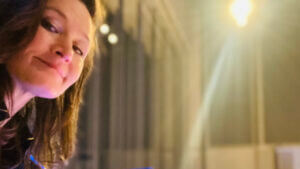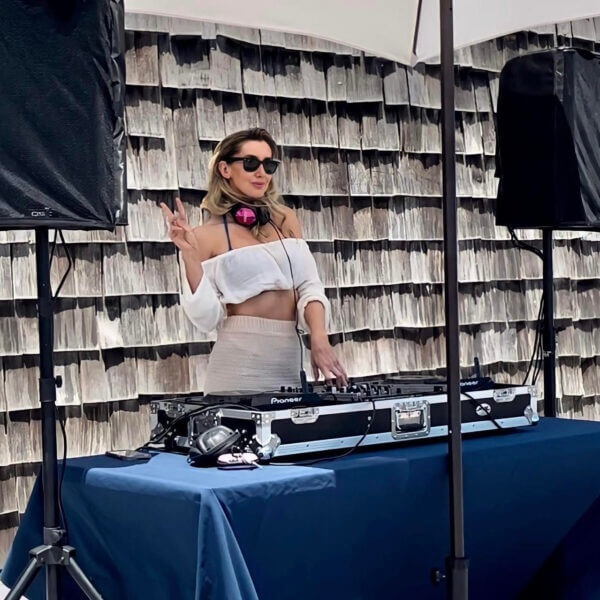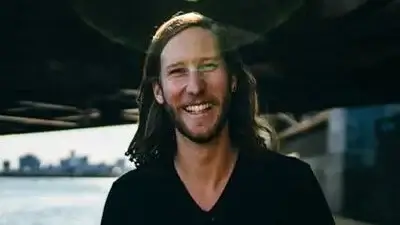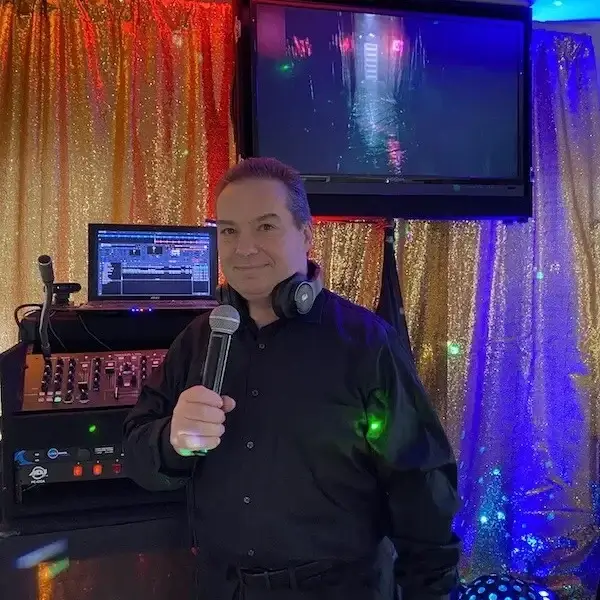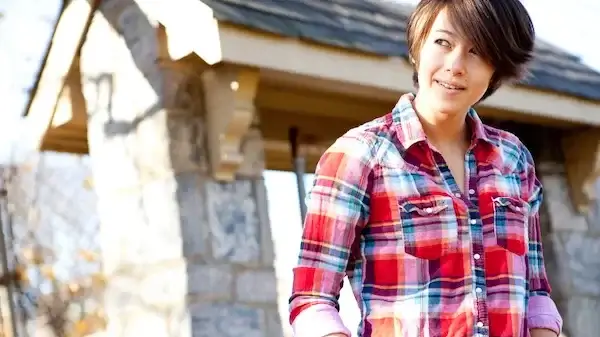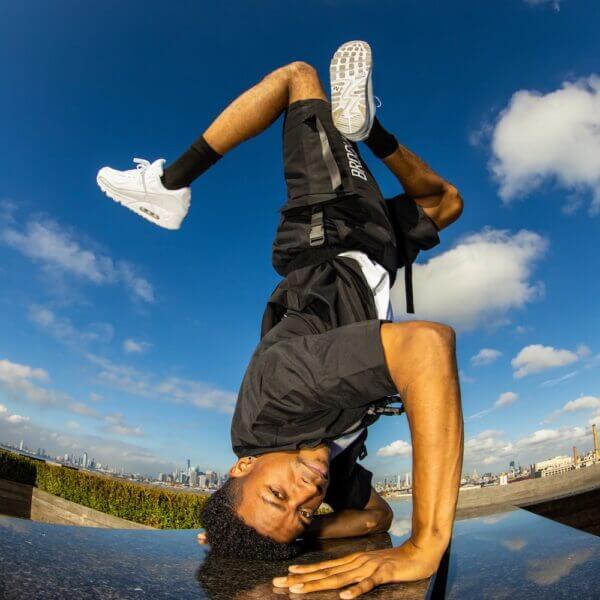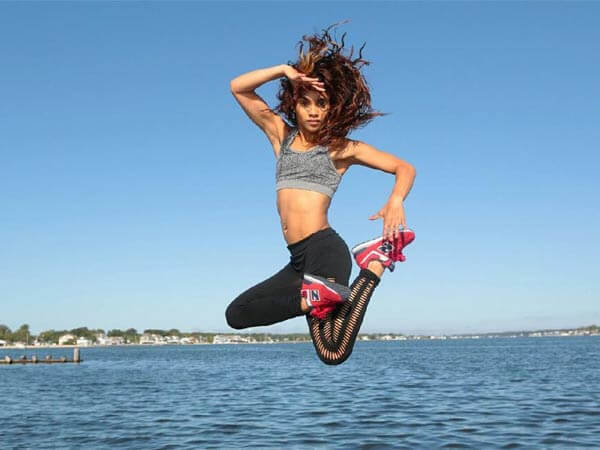 Ki and Bri
Mitzvah Dancers/Dance Instructors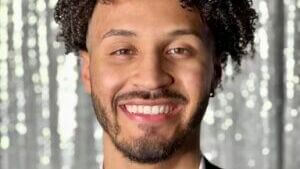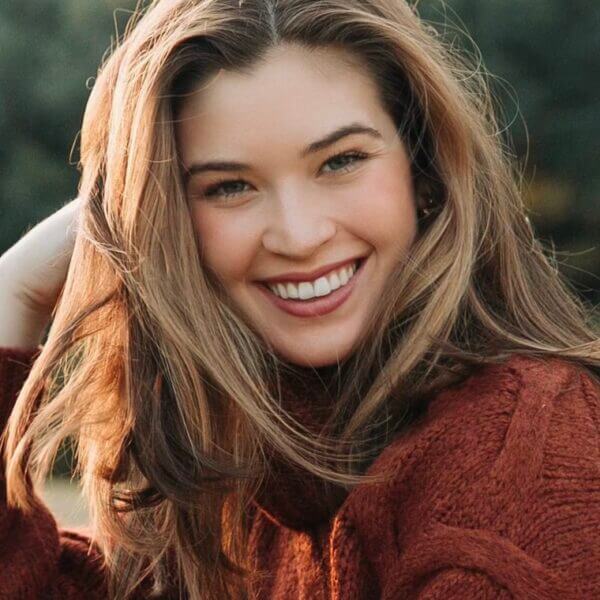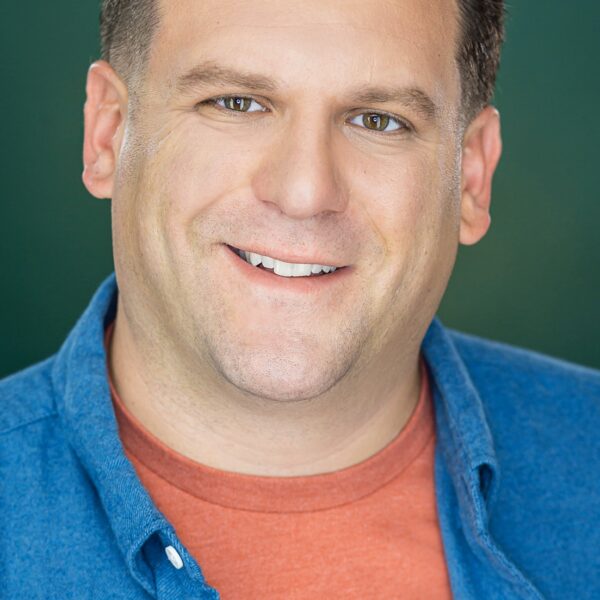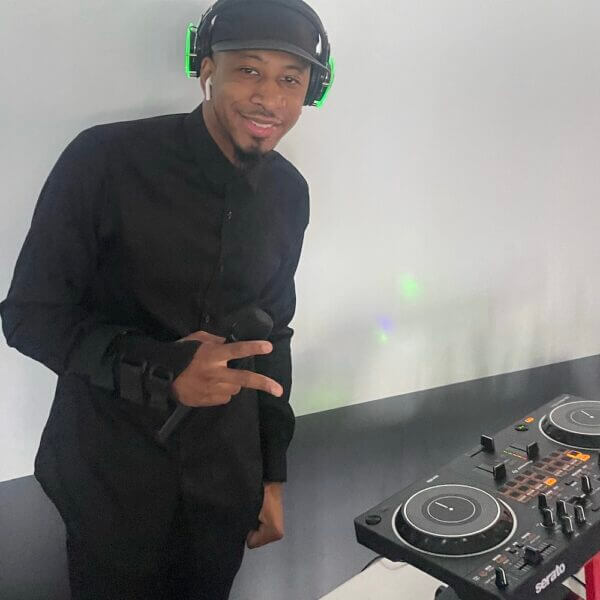 DJ Siggy (DJ and Silent Disco DJ)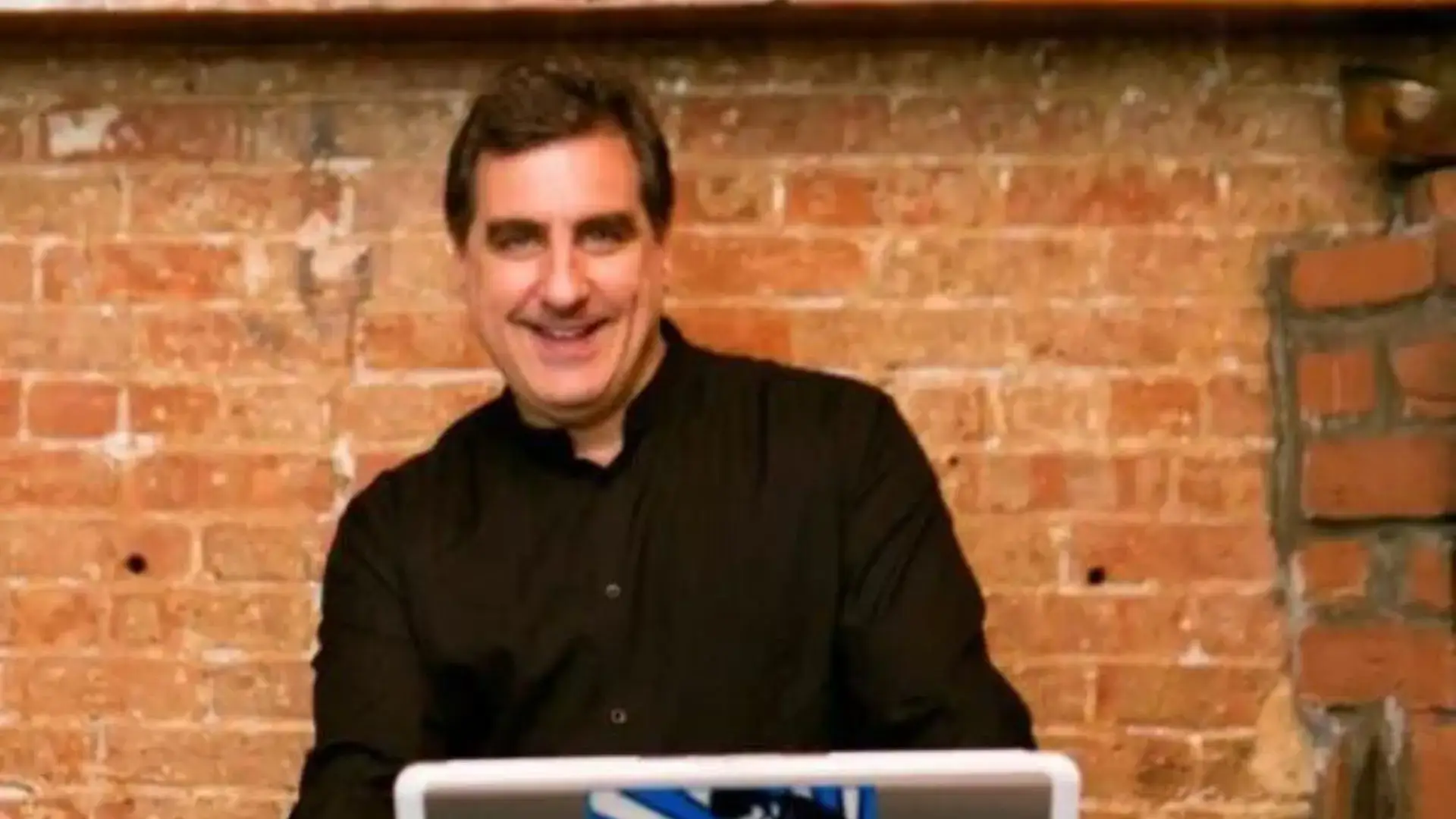 DJ Dave Swirsky (Owner)
DJ
My Style
My whole goal as a Lifelong experienced Professional Wedding and Event DJ is to make your event outstanding from the first time we talk to the last song i play at your event where everyone is wanting just "One More Song!". I love music and pleasing my clients so if you want a GREAT-STRESS free DJ experience contact me!!! 914-370-2333 / 212-953-9367 or david@expresswaymusic.com
The Music
I am versed in most styles of music including Pop, Salsa, Merengue, Freestyle, Rock, Motown, Classic Rock, Jazz (all types), Boogaloo, Reggae, Reggaetone, Hip hop, 30's, 40's, 50's, 60's, 70's, 80's, 90's, 2000's, Alternative, R & B, Soca, EDM and more. At weddings and the events i dj i love to weave a tapestry of sound that is so pleasing that guests can't help but feel moved by it. From dj'ing a couple of thousand events i have develop an amazing "feel" for the dance floor…in the same night you could possibly hear Beyonce, Rolling stones, Drake, the Temptations, Doja Cat, The Beatles, the Cure, The Bee Gees, Blink 182, el gran combo, Juanes, Sean Paul, Bab Marley, Thelonious Monk, Stevie Wonder and much more!! …..
Current Clients include:
Calvin Klein, Kate Spade, Vera Wang, Howard Stern, Martha Stewart, Rosie O'Donnell, Lisa Loeb, John Studzinski, Movie or TV Show Wrap parties for Sean Connery, Naomi Watts, Opening night parties for Broadway and off Broadway Productions. Corporate events including IBM Worldwide in Puerto Rico, Accounting firms, Law Firms, Bank of China, Carnegie Foundation, Columbia University, Yale University, NYU, and every type of venue imaginable including the United Nations, Madison Square Garden, Carnegie Hall, Weddings on Farms, wineries and vineyards throughout the Northeast, and other events throughout the US including Colorado, California, Arizona, Florida, Washington DC, Philadelphia, Boston and more. DJ Dave also hosts karaoke events all over NYC + Westchester NY and does many, many DJ and Karaoke events, weddings and more.
Reviews and letters: (Check out many more letters on instagram expresswaymusicnyc)
(From Wedding at The Harold Pratt House NYC)
From: Lindsay C
Date: Tuesday, October 15, 2021 at 4:49 PM
To: David Swirsky
Subject: Thank you!
Hi David,

Thank you from the bottom of our hearts for making our night unforgettable! You killed it! All of our guests have raved about the music! Honestly, you really listened to us and as all over the place as our taste is, you nailed it. Thank you thank you thank you, we could have danced until the sun came up!

We will definitely give a glowing review and send anyone we know getting married your way. I want to throw another event just to dance to your playlist;) Thanks again, David!

Fondly,

Lindsay and Mark
Sent from my iPhone
From Bat Mitzvah at Brasserie 8.5 on 57th Street
From: Rachel K
Date: Monday, September 23, 2022 at 1:18 PM
To: "Admin (Expressway Music)", David Swirsky
Subject: Thank you!
David and Charissa,

Thank you so much for helping us make Isabelle's Bat Mitzvah a truly joyous event! Everyone (and I mean everyone) had a great time. Dave, The music was terrific and captured the energy in the room, MC Alberto was great and a pleasure to work with, the dancers were fabulous and Charissa, your help putting it all together was amazing! We also had tons of people raving about the magician – he really blew people away. The caricature artist was also a big hit! And grown ups and kids alike were lining up for the photo booth. Your photographer Russ was a true professional and had a wonderful personality to work with – I cannot wait to see the photos!

Truly, thank you for helping us put this all together. Your experience and expertise were invaluable! We don't have a date yet for our son Matthew's Bar Mitzvah, but you will be my first call when we do!

Thanks again!
Rachel
From Corporate Event (for 500) at Tavern on the Green Central Park NYC
From: Christopher J
Date: Wednesday, January 15, 2020 at 10:31 AM
To: David Swirsky
Subject: Thank you
Dave,

It was great meeting you and working with you on our event. The guests loved your dj'ing and music selection and the violinist was killer. It was nice to be able to rent the up lights too. I'll definitely be adding Expressway Music to our recommended vendors list at IBM.

It was a blast and thanks again!
Best regards,
Chris
Related Links: DJ Dave Gig Log 620 Loft & Garden Wedding
Phone
914 370 2333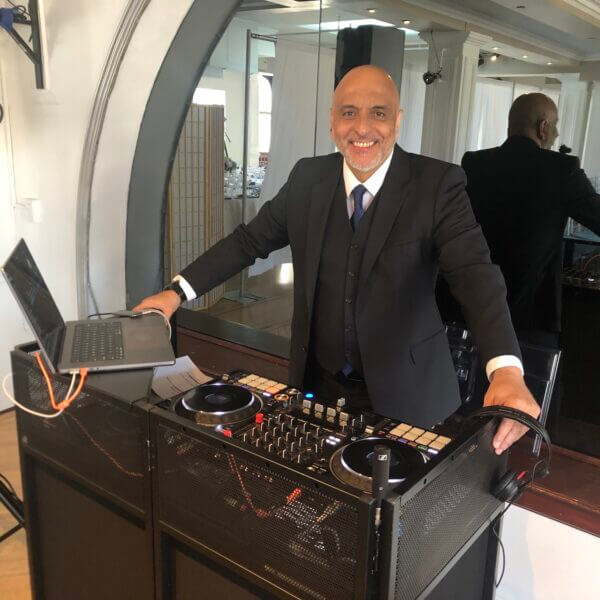 DJ Sergio (Bilingual)
DJ
DJ Sergio (Bi-Lingual Disc Jockey)
Originally from Brazil DJ Sergio has been an active super busy Wedding and Event DJ since 1995. He has  a solid and varied knowledge of most musical genre's and is as comfortable dj'ing a 20's something wedding as he is a 50 Wedding anniversary or Sweet 16! He is both highly organized and detail-oriented. His experience as a Wedding DJ, Club, Corporate events, and karaoke services is almost unparalleled in this business. He is Professional, enthusiastic, and has a catch positive can-do attitude.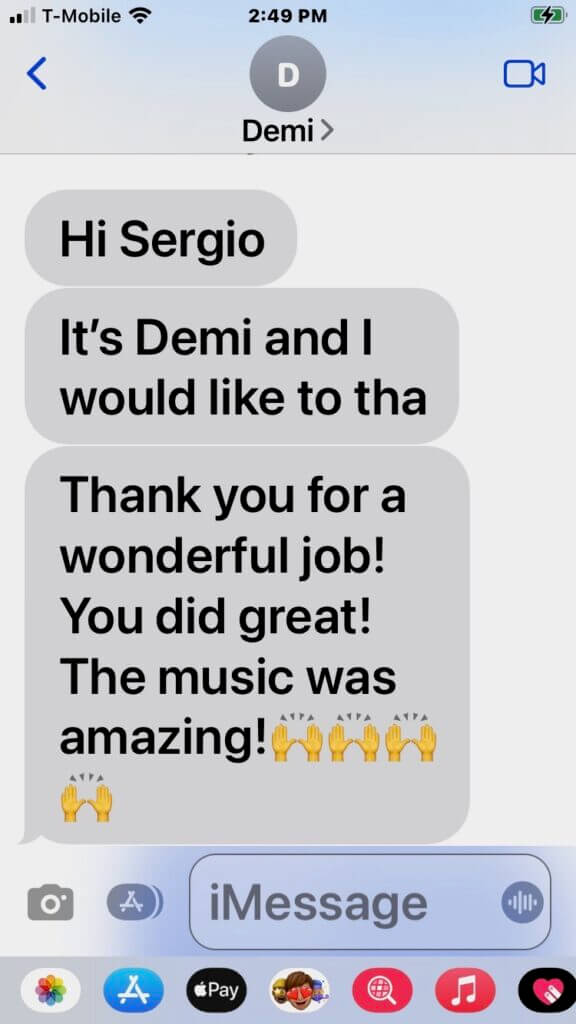 From: Steve
Date: Monday, September 19, 2022 at 5:25 PM
To: David Swirsky <david@expresswaymusic.com>
Subject: Thank you!
Thank you! Sergio was a star. The dance floor was packed all night. Please pass along our thanks! And you're welcome to use us as a referral for future gigs. And we're grateful for your care and professionalism as well.

-SK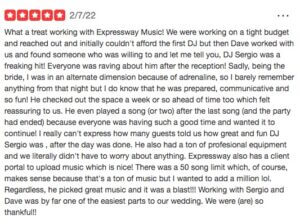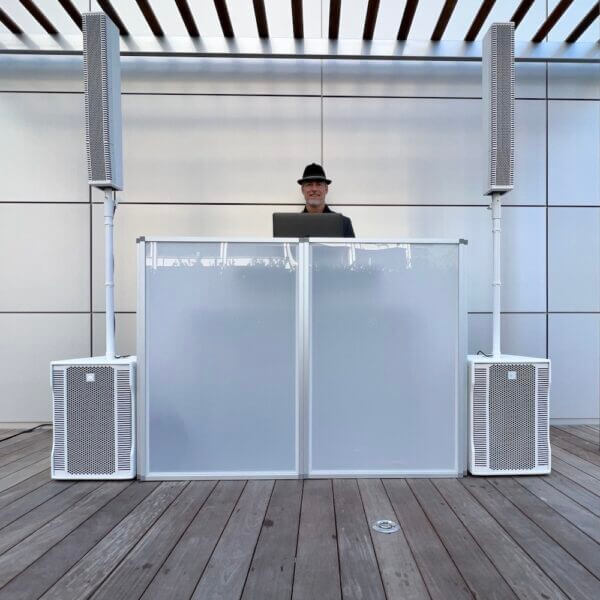 DJ Gee
DJ
Originally from California, DJ Greg is one of the top reviewed DJ's in New York City. Greg has the experience that you want at your once in a lifetime party or event. Nothing beats experience and DJ Greg has many consistent years of it DJ'ing diverse wedding and events for us since 2006 here in NYC and beyond.
5-24-22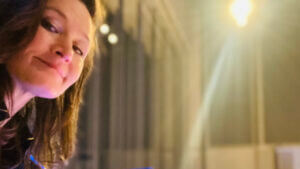 Karaoke DJ Sabrina
DJ
Karaoke DJ Sabrina is a very experienced Karaoke DJ Hostess that will get your party going naturally (with a great energy). Her friendly demeanor and ability to read a crowd makes her a crowd favorite every Party and event we have her on. DJ Sabrina will arrive early for set up and will bring Monitor on stand, microphones and our up to date and diverse karaoke library of music. She will also dj in-between singers so there is always a continuation of positive up energy. DJ Sabrina is as experienced being Karaoke dj for a kids karaoke birthday party as she is a Corporate event and party!! You will be in great hands with DJ Sabrina!
Expressway Music Karaoke DJ Sabrina at Museum Staff Party
DJ Terri
DJ
Residing in Brooklyn NY DJ Terri has been a Mobile DJ since the tender age of 12!! She has many years experience dj'ing New York Weddings, Corporate events, Store openings and MUCH MORE. She has a deep knowledge of most styles of music and has the unique skill of getting and keeping guests dancing for LONG periods of time!! In addition to her top dj skills she is calm, cool and collected that makes clients feel they are in very good hands with her as their dj!!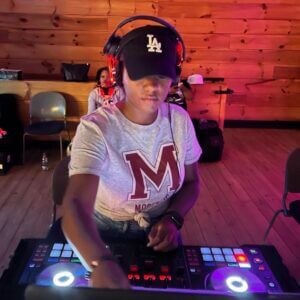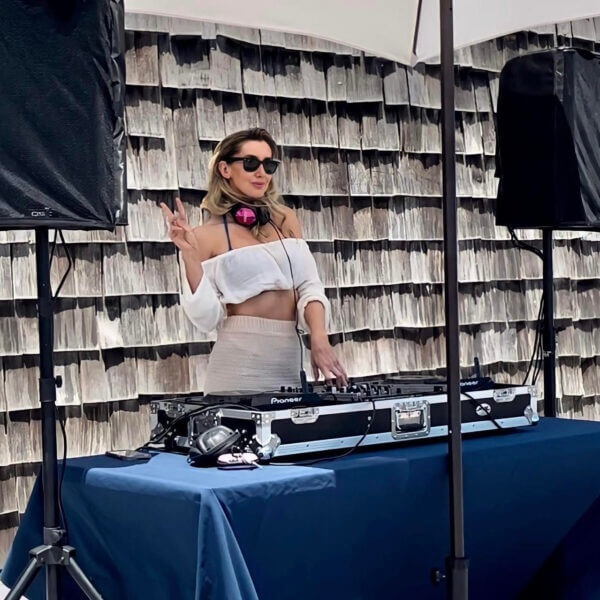 DJ Halley
Open Format Event DJ
Originally hailing from North London DJ Halley has been a consistent client favorite! Her skill is easily recognized with her unique mixes, incredible music knowledge and her perfect song choices. Her ability to "read" the crowd is lightening quick and scary accurate! Contact Dave Swirsky for more information about having her DJ your special event!!!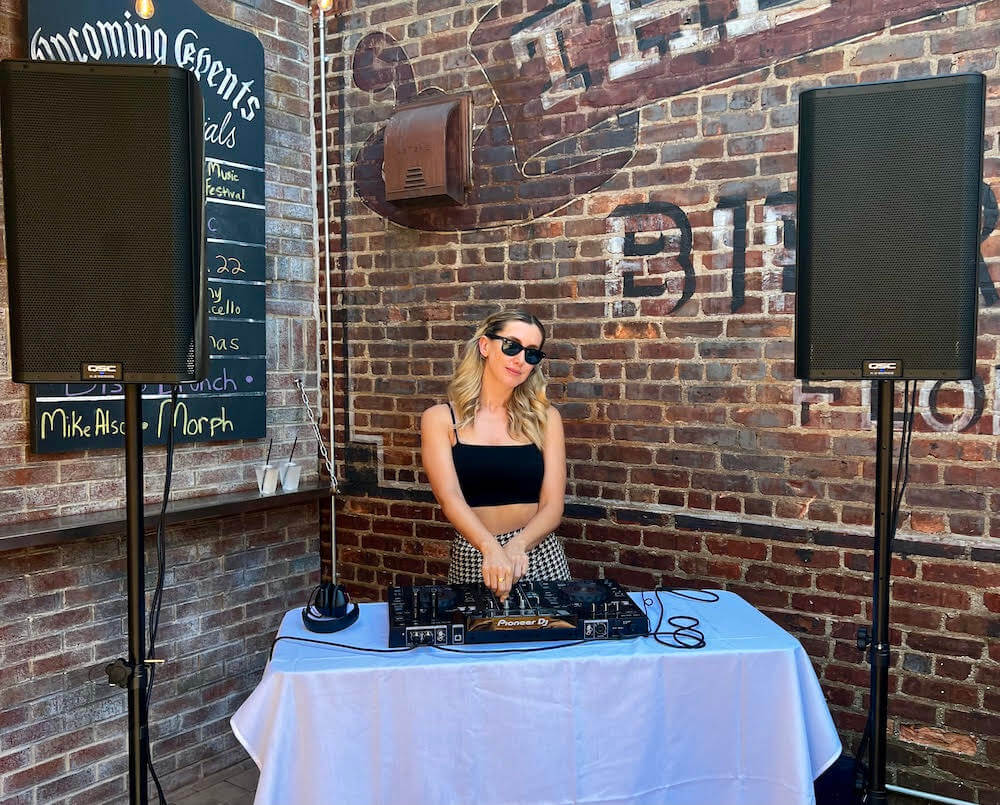 Skills
Next Level Singer/Songwriter
Phone
212-953-9367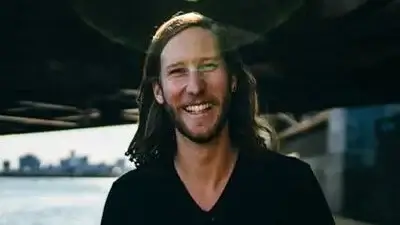 DJ Cam
DJ
DJ Cam has 10 Years DJ'ing Weddings and other events in both Boston Massachusetts and New York City. He has been a tremendous addition to the Expressway Music DJ Team and we are fortunate and grateful to represent someone with such talent and skill.
DJ Cam Wedding Video Demo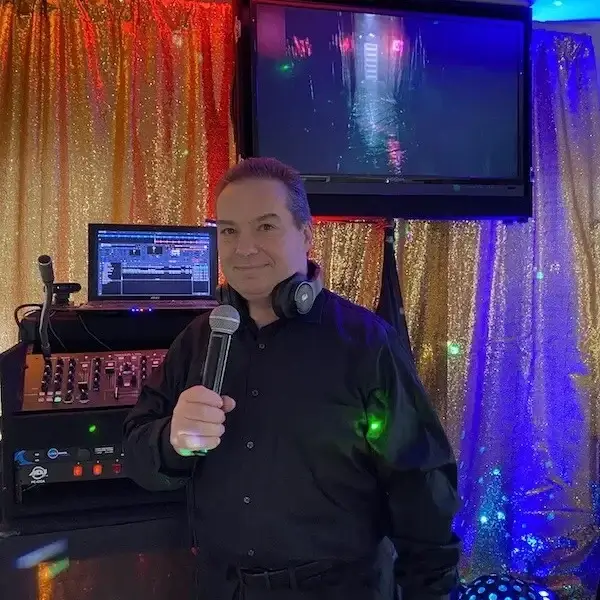 DJ Dieter
DJ
DJ Dieter is one of the top Mobile DJ's in New York. He has been DJ'ing Parties and Events FULL TIME since the early 1990's. Dieter is also an exceptional and natural Emcee. We are very fortunate to be working with him on not just on Tri State Weddings but also for Bar/Bat Mitzvahs, Sweet 16's, Kids Karaoke parties and many Corporate DJ Events. DJ Dieter is also a popular Karaoke DJ for us as well. Please consider Dieter his experience is truly second to none and will make your event absolutely outstanding.
Best DJ for any event. My family has had DJ Dieter entertain us and our guests for several parties. We have had an amazing time every time DJ Dieter is with us. We always get to give a list ahead of time of "must have" songs and each time every one is worked into our party. Whether it's a kid friendly party, an adults only event or any special occasion that great music could make better. Dieter will get the crowd moving and the party pumping! Dieter will ABSOLUTELY make your party fun, festive, and full of fabulous music!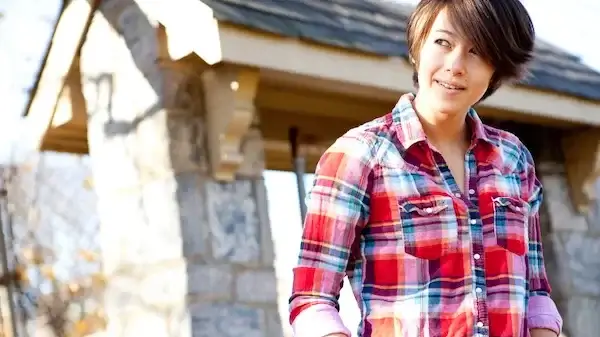 DJ Riko
DJ
DJ Riko has DJed and performed at Summerfest Music festival, ABC, NBC, Summerfest, Vans Warped Tour, and has had residencies all over NYC and the Hamptons. She has vast experience DJ'ing all types of events including weddings, corporate events, pride events, parties, and bachelorette parties. Her main concern is to make her clients happy and do everything in her power to make the party/event memorable. DJ Riko will is more than happy to get on the mic and encourage people to get on that dance floor!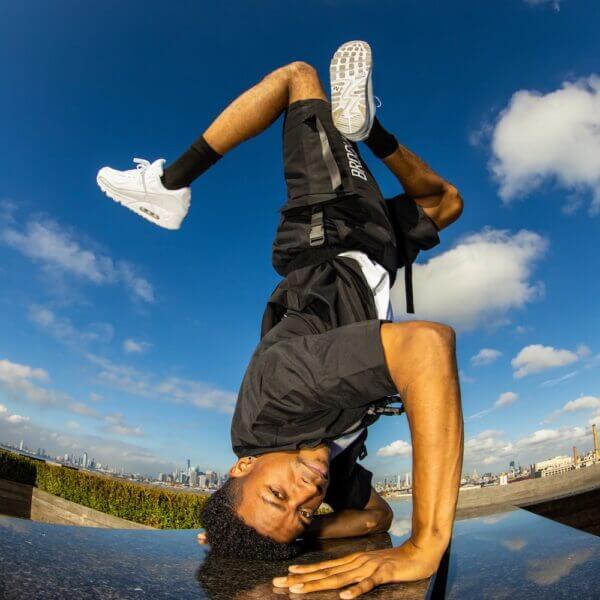 James
Bar/Bat Mitzvah Dancer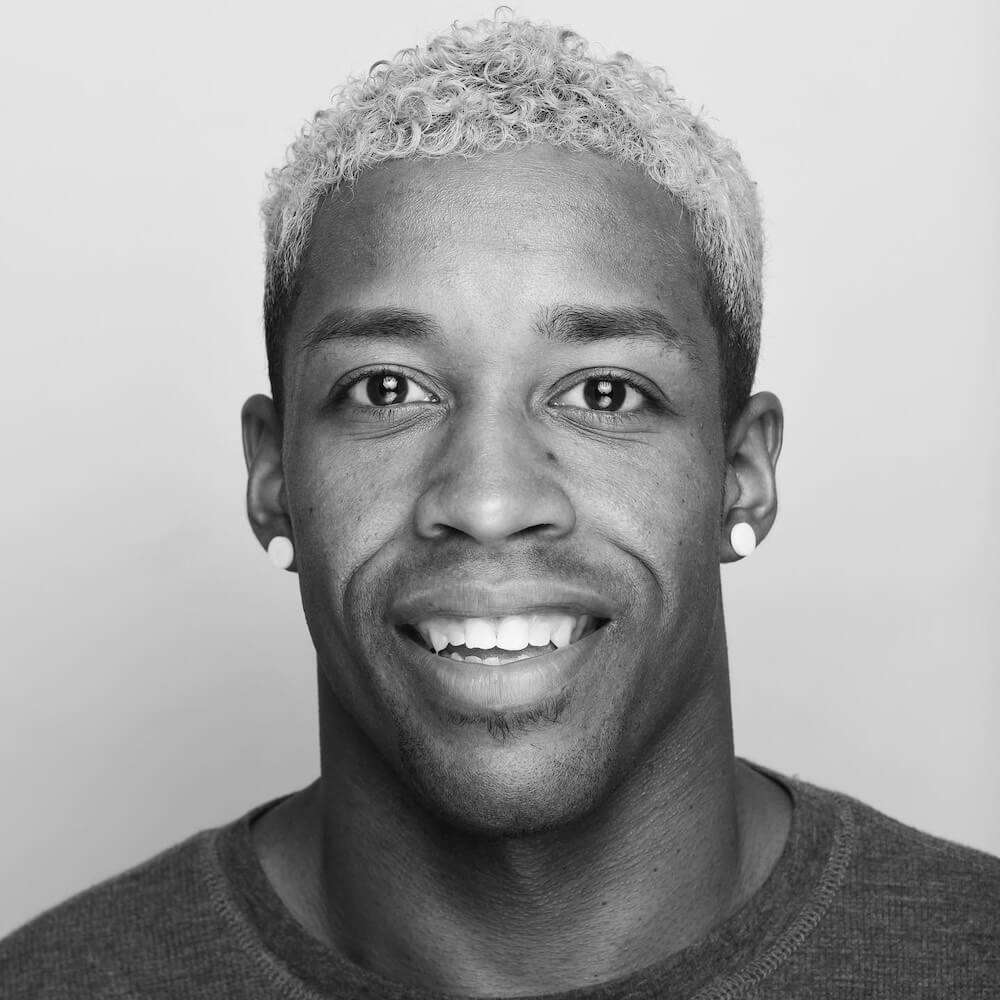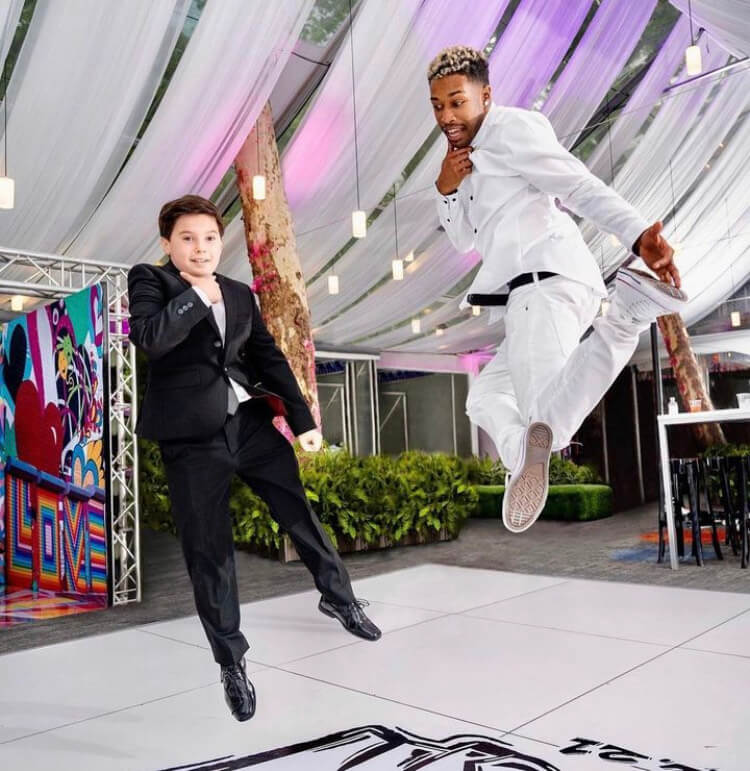 James is an accomplished dancer and a great addition to Expressway Music. He gets guests dancing without forcing it. James is a nice guy who is a total people peson who can really dance!
Skills
Motivational Dancer for Bar/Bat Mitzvahs
Professional Break Dancer
Phone
212-953-9367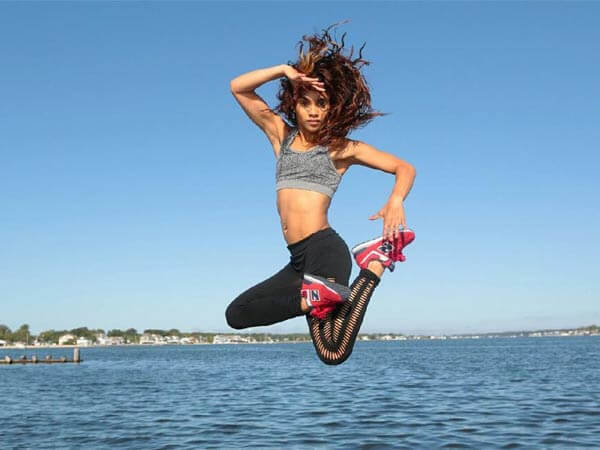 Ki and Bri
Mitzvah Dancers/Dance Instructors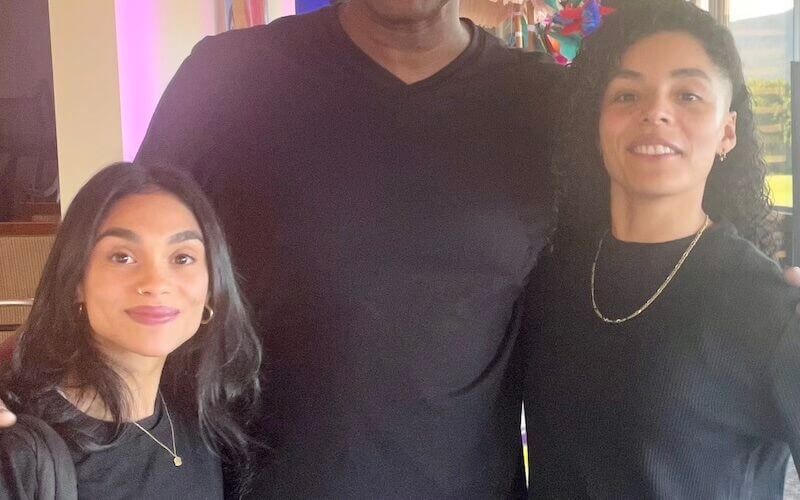 Ki and Bri are a true double threat. Our B/Bar/Bat Mitzvah clients love their energy when they are leading dances (Cotton eye Joe, Cha Cha Slide, Cupid Shuffle and many more)

They are also Dance Instructors and Choreographers (who have taught all over the world i.e. China, Puerto Rico, Iceland and Paris) and are available for Corporate team building events where they will lead guests though Hip Hop dance styles i.e. Waving, Breaking and Animation. Thier motto is: "Move your feet, Move the world!"
MC Corey
Emcee Dancer
Corey is an experienced MC for events and parties. Every event he Emcee's clients comment about how is energy is PERFECT for their event. He has the ability to match the mood of the crowd and getting guests involved without forcing it. Corey is also a professional-competitive and in demand Break dancer!!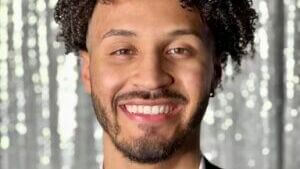 DANIEL-Emcee-Dancer
Emcee Dancer
Daniel has been a tremendous addition to our Expressway Music Team. Daniel is not only an experienced B Mitzvah Emcee he is also a professional dancer with a wonderful energy. He is a teacher by trade and when you see him at an event you will see what a natural he is with the ease he gets most everyone up and having fun dancing without forcing it!!!
Skills
Bar/Bat/B/B'nei Mitzvah Emcee
Phone
914-370-2333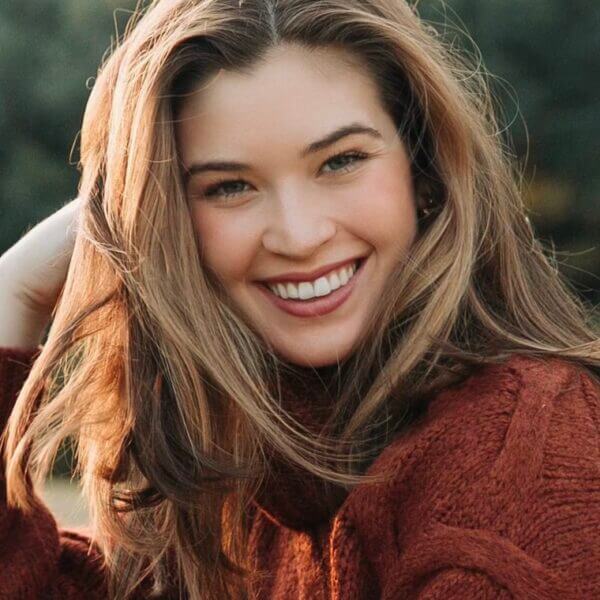 Taylor
Dancer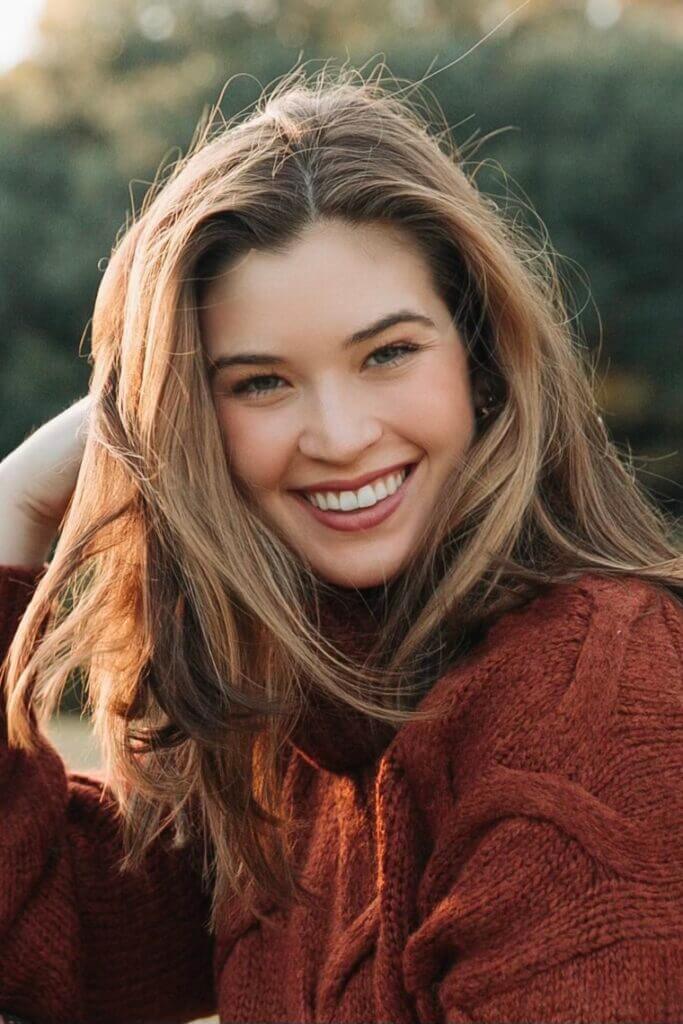 Taylor is a professionally trained dancer with a GREAT energy and friendliness that guests of all ages respond to very well. She has vast experience at leading dancing at Bar/Bat Mitzvahs and Corporate events. Taylor inspires guests to dance by her warm, inclusive energy and will enhance every event she is on!!!!
Phone
212-953-9367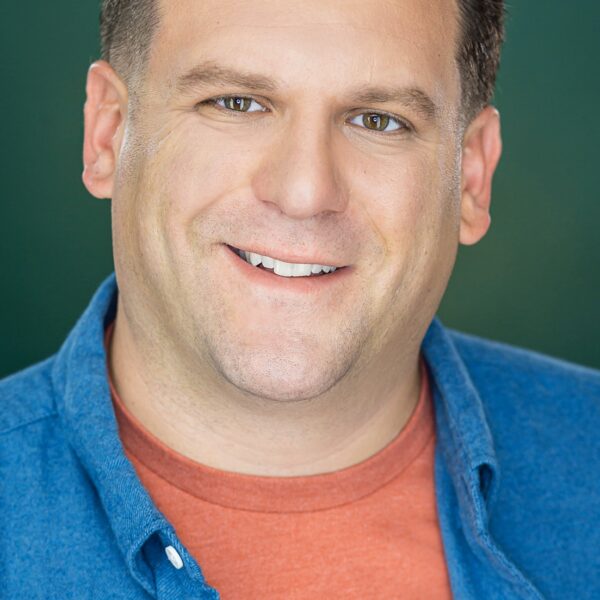 Jacob-Emcee
Emcee
Jacob is a versatile performer from NYC with over a decade of MC/Event experience for everything from bar/bat mitzvahs to weddings to kids parties. With Jacob, you get more than just an MC. You're getting a MC with alot of personality who also brings his own dancing, rapping, and singing skills to the table. When he's not MCing, Jacob works as a tv/film actor with many credits to his resume.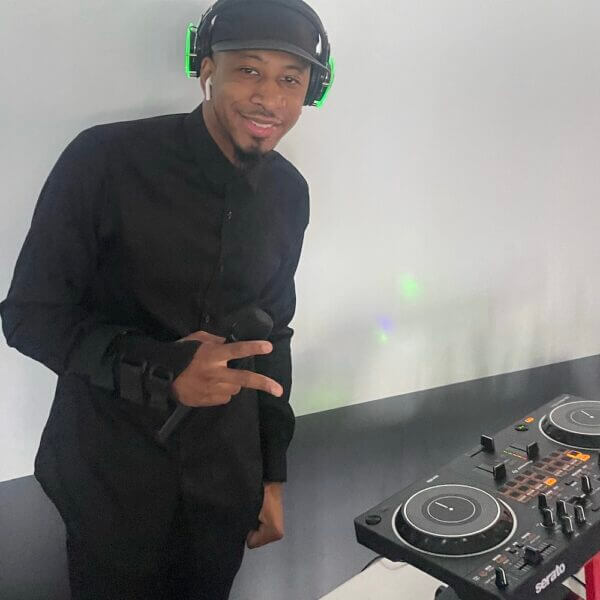 DJ Siggy (DJ and Silent Disco DJ)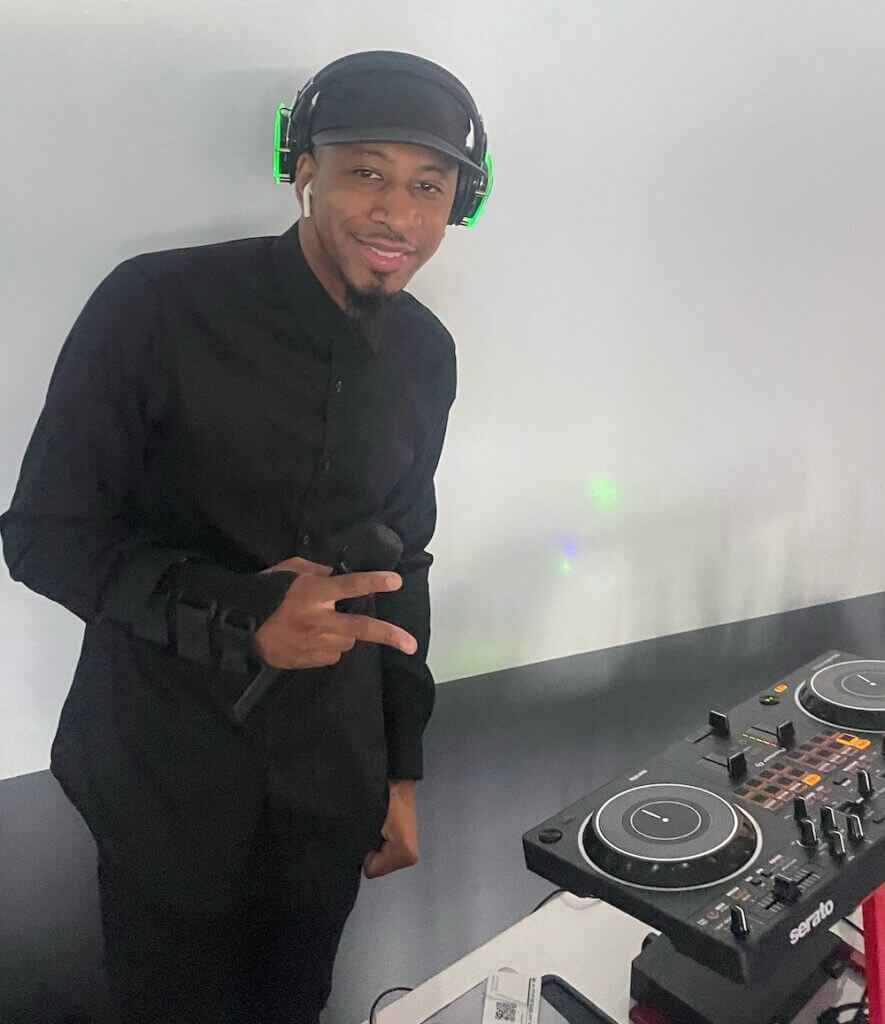 DJ Siggy is our GO TO Silent Party Disco DJ. He is also a versatile all around dj with an extra expertise with Soca and Caribbean Music. Siggy is a huge client favorite for his laid back demeanor and expert skills as a NYC DJ.
Skills
Open Format Wedding and Event DJ
Phone
212-953-9367
Location
NYC-BROOKLYN