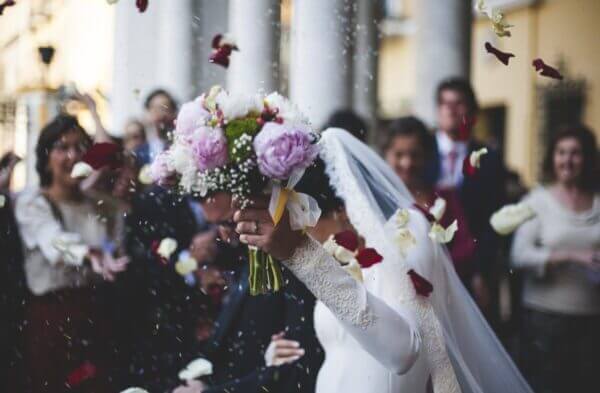 The song that follows "I DO" is one of the most important songs of a wedding. It should be somewhat uplifting and celebratory. The "right" song can really set the tone for the rest of your wedding. The following is a list of our top 10 Classical Wedding Recessional Exit Songs. We hope you enjoy!
1. The Marriage of Figaro-Mozart
is a (comic opera) in 4 acts composed in 1786 by Wolfgang Amadeus Mozart,. It premiered in Vienna on 1 May 1786. The opera is a cornerstone of the repertoire and appears consistently among the top ten in the Operabase list of most frequently performed operas.
2. Jubilation – R.J Mitchell
3. Can Can- Offenbach
This is a high-energy, physically demanding dance that became a popular music-hall dance in the 1840s. It is a lively piece that has been used often in Ballets.
4. Radetzky March- Strauss – Radetzky March, Op. 228
This is a march composed by Johann Strauss Sr. and dedicated to Field Marshal Joseph Radetzky von Radetz. First performed on 31 August 1848 in Vienna. its tone is more celebratory than martial. It is always played as the jubilant last piece at the New Year's Concert (Neujahrskonzert) of the Vienna Philharmonic.
5. Beethoven's 5th Symphony
The Symphony No. 5 in C minor of Ludwig van Beethoven, Op. 67, was written between 1804 and 1808. It is one of the best-known compositions in classical music. It is broadly considered to be one of the cornerstones of western music.
6. Grand Valse Brillante – Chopin
The Grande valse brillante in E-flat major, Op. 18, by Frédéric Chopin in 1833.. This was his first published waltz composition for solo piano. This is a beautiful selection for your classical wedding recessional exit song.
7. Polonaise Op 40 No 1 in A Major-Chopin
The twin Op. 40Polonaises of the Polonaise in A major, Op. 40, No. 1 (nicknamed the Military Polonaise) and the Polonaise in C minor, Op. 40, No. 2 were composed by Frédéric Chopin in 1838.
8. Brandenburg Concerto NO 3 – Bach
The Brandenburg Concertos by Johann Sebastian Bach (1721) They are considered as some of the finest orchestral compositions of the Baroque era
9. Concerto for Violin and Strings Op.8, No. 1 in E Major, "Spring" – Antonio Vivaldi
4 March 1678 – 28 July 1741) was an Italian[6] Baroque musical composer, virtuoso violinist, teacher, and Roman Catholic priest. Born in Venice, the capital of the Venetian Republic, he is regarded as one of the greatest Baroque composers, and his influence during his lifetime was widespread across Europe. He composed many instrumental concertos, for the violin and a variety of other musical instruments, as well as sacred choral works and more than forty operas. His best-known work is a series of violin concertos known as the Four Seasons. This has easily become one of the most popular classical wedding recessional exit songs.
10. Divertimento in F(Allegro) – Mozart
Divertimento was composed by Wolfgang Amadeus Mozart in 1777 to commemorate the name day of Countess Maria Antonia Lodron, a family friend and member of the Salzburg aristocracy.