NYC Wedding with DJ
DJ Dave Swirsky was back at Studio 450 for an elegant West Indian-West African wedding Saturday night. Expressway Music Violinist Yan played for the Pre-Ceremony and Ceremony before DJ Dave Took over the rest of the wedding. DJ Dave said this was the nicest group of guests you could ever meet and ….LOVED TO DANCE!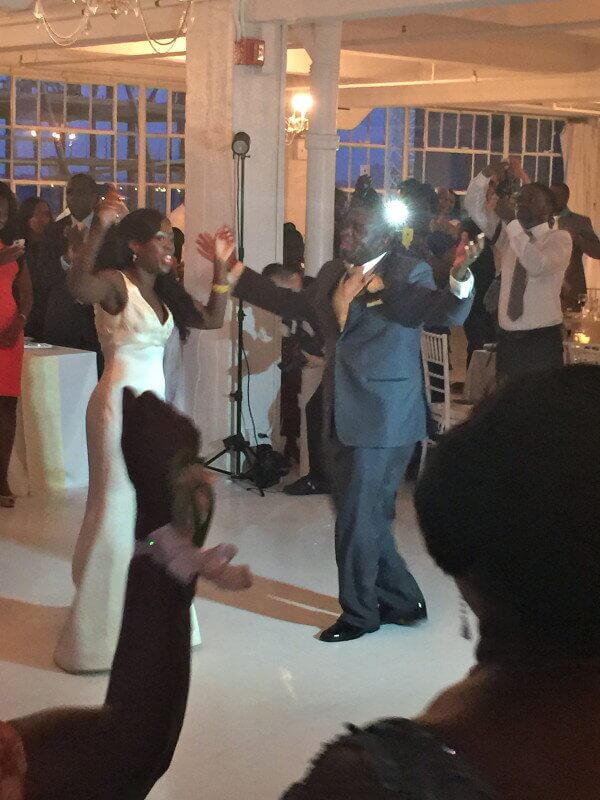 Watch Bride & Groom entering the room!
DJ Dave DJ Set Up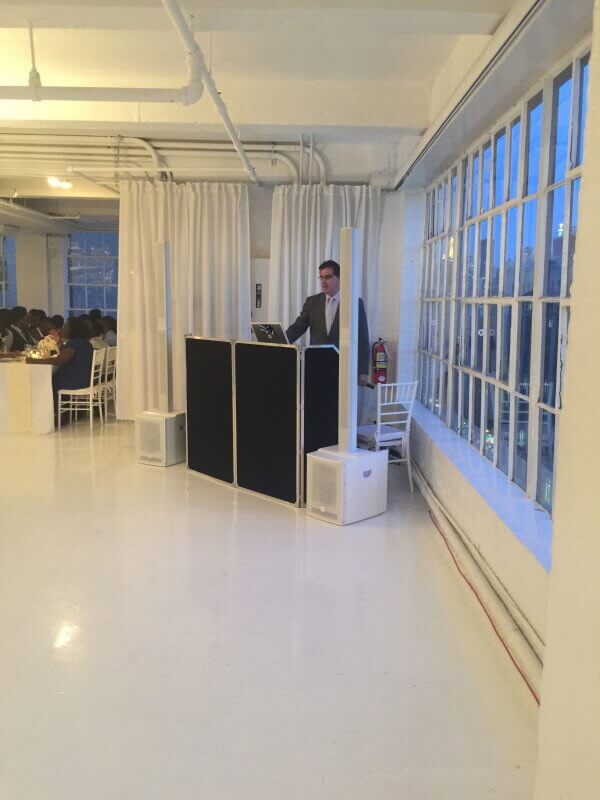 Guests came from all over the world including places like Ghana, Guyana, Korea, Canada, and more! DJ Dave mixed up genres and had guests dancing to many different styles of music including Reggae, Soca, Dancehall, Pop, Merengue, Hip Hop, Waltzes, and more!! This NYC Wedding with DJ Dave was spectacular!
Look how much fun this crowd is!!
Real Food Catering
The wedding was run and expertly catered by Real Food Catering.
This was one of the great summer weddings. Thank you so much to Real Food and the Bride and Groom (Owen and Afua) for hiring our Violinist and DJ!
Sent: Wednesday, August 19, 2019 10:54 PM
To: [email protected]
Cc: Owen
Subject:Thank you
Hi Dave,
I left the following in wedding wire. thanks again. our guests are still talking about our wedding the how much fun they had.
Afua.
We were recently married and the wedding was a hugely successful, largely thanks to Expressway Music. We could not have made a better decision when we chose DJ Dave and his team for our event. My husband was in charge of the selection and after interviewing and firing the first few, he came home one afternoon extremely confident with his selection. When I met DJ Dave a few weeks prior to the event, I immediately agreed. DJ Dave just felt like "our DJ". He was easy going, organized and extremely helpful in assisting us with organizing the flow of our evening in away that made sense. He was interested in our musical tastes and made sure that he had a good handle on the types of music that would appeal to our crowd. His team was accessible and replied promptly to any queries we had. He also took the time to learn the pronunciation of some of the uncommon names of the speakers at our event. On wedding day, he and his team really excelled. The violinist was a perfect accompaniment to the processional and recessional and DJ Dave didn't miss a cue with our complex choreography of the officiant, our scripture reading and our vocalist and the "I do's". Of course, the highlight of the night was the party during the reception. Our extremely discerning west indian and west african guests were on the dance floor all night. We heard them comment over and over again how fantastic the music was and how impressed they were with our DJ. DJ Dave went from dance set, to speeches (calling up our speakers with perfect pronunciation like they were his own family), to background music seamlessly. In short DJ Dave and Expressway Music were simply outstanding and we couldn't have been happier. Our wedding was spectacular!